BOOK: You Can Touch the World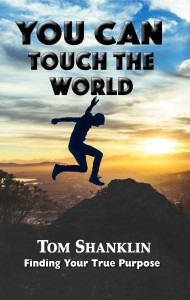 You Can Touch the World will unveil the awesome potential of your life, and inspire you to take the challenge to touch your world with the love of God.
You will discover:
The yearning heart of God for the people around you
How to connect your life to His power
Practical ways to release compassion to others
How you can work with others to impact the world
With Christ's direction and plan in your life, you can make a difference. You can have the power to bring change, to impart life that only comes from the heart of the Father. When you act on God's plan, you are acting out of love, out of concern, out of compassion. You are putting the throbbing heartbeat of the Father into action. His heart beats for people—lost, hurting sighing, dying humanity, people who are far away from Him. You are the key to bringing them home. You are the extension of the heart of the Father. Order your copy today!
ORDER You Can Touch the World Paperback
If you enjoy our products, please review them on Amazon and iTunes. It will help us to get the word out and help more people. Thanks!
Get extra copies. A great tool for:
Local Churches
Home Groups
Evangelism Classes
Outreach Teams
Bible Studies
Translation into Other Languages…
Check out these free PDFs into other languages:
If you would like to help translate and print books to train workers in other nations, you can Donate to Our Overseas Book Fund here.
What others are saying:
"A landmark book in this field. " Pastor Andrew Gackle, Evangelical Formosan Church, Houston, Texas
"A very anointed and a timely message for the church." Kim Ellison, Bringing in the Harvest Ministries, Blaine, Minnesota
"A passionate call to evangelism. Each chapter has a needed message." Pastor Virgil Amundson, Shell Lake Full Gospel, Shell Lake, Wisconsin

From the Foreword
Tom Shanklin is a bona fide 21st century evangelist. He lives and breathes with the passion to reach lost souls to come to know salvation in Christ. He understands his gift and calling to minister as an evangelist as one of the fivefold gift ministries found in Ephesians 4:11 "And he gave some, apostles; and some, prophets; and some, evangelists; and some pastors and teachers."
Those who read this book will get a deeper sense of purpose on how and why we should reach the lost. Tom's personal experiences woven into each chapter bring life to each chapter to make for interesting reading. His chapter on "The Ministry of the Evangelist" is thought provoking to pastors who may not see the importance of the gifting of the evangelist in the church today.
I commend this book by Tom Shanklin to your reading pleasure and for your own discovery as to the need for the voice of the evangelist in the church.
Pastor Virgil Amundson, Shell Lake Full Gospel Church, Shell Lake, Wisconsin
You Can Touch the World Used for Training Leaders in Nepal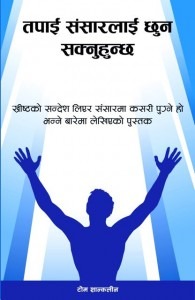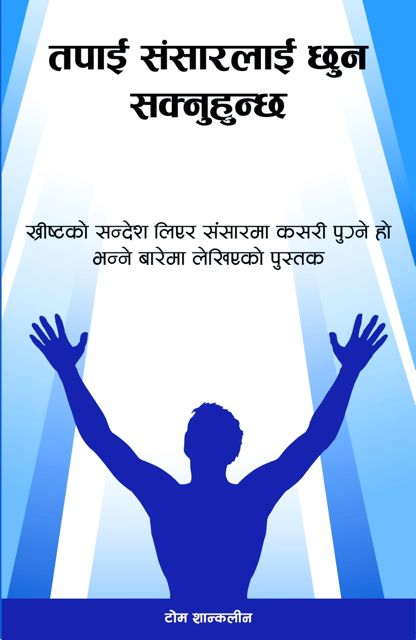 The book, You Can Touch the World, has been a wonderful tool for training the pastors and leaders in Nepal. God has just opened the door for the gospel and Nepal has become a new land for God's work. It is now urgency for evangelizing the nations. In this heavy harvesting season, this book has become an effective training tool for equipping leaders and pastors for the greater harvest. In 2014, we had trained about 500 pastors with this book and about 200 pastors are regularly using this book to train their leaders in their local level. This year, within three months of time, about 300 pastors and leaders have been trained by the pastors who attended conference in last November in Bardiya. We printed 1500 books but we are almost running out of it. Probably, in October this year, we may have to reprint another 1000 copies for the next conference and training. An Evangelistic Pastor who attended our pastor conference in last November 2014. Almost every day he goes to a different village and does evangelism. Here is what he said, "The book, You Can Touch the World has been a great resources to me to know what I am doing and to understand how I can train other for the ministry of evangelism and church planting. I am teaching a group of 50 pastors once in a week through this book. In every meeting on the week, I use each chapter of the book to train them. And also not only to the pastors, but to the members I teach from this book. So this is a great tool for me in my ministry. Now, I can teach each chapter even without the book because it has become so familiar to me." As like Pastor Badri, there are many who have shared their blessings and experiences with this book. In fact, this book is under a big demand. (Comments from our ministry partner in Nepal who is distributing the Nepalese translation of "You Can Touch the World."
Sooo Glad I'm Changed
I will be taking part in Love Minneapolis this next week and going out on six outreaches. I was touched and challenged by your book, but never thought I would be doing this. Sooo glad I am. Changed forever. Saved at 18 and now 61, so it's time to get off the dime and move forward. (Minnesota)
Pastors Brought Out of Darkness
Thank you so much for God's work you are doing. I am so much blessed with your book which you send to me through my email. Chapter 11 of your book called "You Can Touch the World" it blessed me so much–Lets Unite to Reach the World, psalms 133;1-3. I have shared your book with some pastors and they really come to know that they have been living in darkness world, so am hosting 4 Days inter-denomination Conference for Pastors and Church Leaders in my Church in December 2015. Theme is from your  book, "You Can Touch the World." We are calling the conference "Unite to Reach the World." Pastor from Kenya, East Africa
Like A Harmattan Wind
The fire you have ignited in me is spreading very fast like the *Harmattan wind. When I read your book I saw myself as a believer who is as good as the lost. I discovered that a believer who is not winning souls is just like the lost. Though I was doing evangelism but I must admit that I was doing it slowly. Those who have read it hear also say so. A revival has broken put in this part of the world that has never been witnessed before. The pastors are out to do all it takes to speed the revival that has been tarrying for so long. I appreciate much dear brother and sister. Evangelist from Kenya, East Africa.
Harmattan wind—A hot, dry African wind that blows from the northeast or east.
Every Dedicated Christian Should Read
We have been so blessed by your book "You Can Touch theWorld." This is a book every caring and dedicated Christian should read and, of course more than that, practice. Ray Phipps, Bible Living Ministries, Rapid City, SD
An Anointing on This Work
There is an anointing on this work. It got through to me. I was compelled to read it in the light of my life and what I am doing. I was led to examine my life and the direction of it. So, the book worked, for me. The Gospel is presented clearly, accurately, and compellingly. David Bergsland, Mankato, MN
I Love It!
I have read the first 5 chapters of your book and I just needed to send you an email and tell you that I love it.  It is very anointed and a timely message for the church.  I pray that God will help you to publish it for a wide audience.   It has certainly fired me up. Your book is very encouraging and gives a good push to get out there. Thanks for sharing,  God has really gifted you as a writer,  I will read the rest and can't wait for the finished work! Kim Ellison, Blaine, MN
It Challenges, But Not in a Harsh Way
I tremendously enjoyed reading your manuscript. For me, this is a landmark book in this field. There isn't one thing I don't agree with or say amen to. This is a very readable book that contains powerful spiritual truth. It will exhort, inspire, and mobilize people. It challenges, but not in a harsh way. I fell that the spirit it's written in is equally as significant as the subject matter itself. I pray this can get printed and out in the public as soon as possible. Pastor Andrew Gackle, Sugarland, TX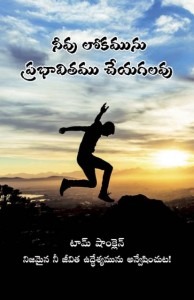 Testimony from You Can Touch the World in Telugu
Pastors have told me that they were challenged for the missions. I have noticed that who ever has read the book have been  challenge for evangelism.
Pastor Deva Dattam Dikku
A Very Timely Writing for this Hour
I just got done reading Evangelist Tom Shanklin's wonderful new book entitled You Can Touch the World. It's a how-to manual for reaching the world for Christ. It is great reading with many stories about ordinary people who impacted the world for Jesus. It tells of our heavenly Father's great love for His children. It also is full of scripture on how to lead someone to Jesus and scripture to edify the reader to fulfill the high calling of God in Christ Jesus. I believe it is a very timely writing for this hour for the church.
Pastor Bob St. Claire, Northern Lights Freedom and Life, Richwood, MN
Using Book to Hold Evangelism Seminars
I have been holding seminars and teach some pastors, other leaders and all people that come. I have been preparing lessons from the book. After that we do go with them to visit homes to witness  together. The Seminar / class generally takes two months and is done every Saturdays. You can't imagine how many Christians have been challenged by your book. Those who passed through my class and read the book have gone out in fully speed to share the message. And I thank God for using you to write this book. Most come to me (of course I am their mentor) and say it is inspired. They confess that they have read other books and have been doing evangelism, but they have never felt the urgency of sharing until when they got in contact with the message in this book. Some ask me to request you to come and speak to us in a seminar. BY the way they are from many denominations. (Kenya, East Africa)
Success is becoming Christlike!
Thank you for your book, You Can Touch the World! We do need an awakening to the purpose we are here—to show God's love for all—lovable and unlovable. It is His love that draws us to Him. "Success is becoming Christlike." What a powerful statement. More of Him—less of me! That has been the cry of my heart. Your book has challenged me to trust the Holy Spirit to build, change, remove in me all that is needed to fulfill God's purpose and plan for my life. When the time comes, may He say, "Well done, good and faithful." (Minnetonka, Minnesota)
A Must Read for Those Born of the Spirit
Dear Tom, Praise the LORD. Thank you very much for the book you sent me. I received it on 09/26/2011 and read it in two sitings. It is, 'a must read book by every person born of Spirit'. It has revolutionized my heart and fanned the fire of passion for evangelism. My heart is now captive to the ministry of evangelism. I now feel the urgency of sharing the Savior with the lost to rescue their souls from eternal punishment- Pro.24:11-12; 11:30. I believe God will use every person who reads it to touch the world for Christ. May God help me to expend the remaining days of my earthly pilgrimage to discharge my duties faithfully-2Tim4:5. As I was reading it I came across the office of  Apostle (Ephesians 4:11).  I thank you very much for helping me to understand it better. When I was pursuing my diploma of theology, this was one of the controversial ministries for it was argued that the last apostle was John and since his death, about AD 96, there has never risen another one. Thank you for your sacrifice to enable this book reach me for I have been able to learn much and I will be patient like William Carey who spent seven long years in India before baptizing the first convert. I will sow the seed and the results will be left to God. You and your ministry, and your family will always remain in my prayers. I will keep in touch. ( A minister from Kenya)
Thanks from Kenyan Pastor
Thanks Pastor Tom and Susan for the two inspiring books, i.e You Can Touch the World and Filling the Void and The Healing CD. I just received them yesterday. For your information  i have just gone through the first chapter and it was really touching to have the `heart of the father." It was really written under God's anointing. (From a pastor from Kenya)
Awakened to Our Purpose
Thank you for your book! We do need an awakening to the purpose we are here—to show God's love for all—loveable and unloveable. It is His love that draws us to Him. "Success is becoming Christlike." What a powerful statement. More of Him—less of me! That has been the cry of my heart. You book has challenged me to trust the Holy Spirit to build, change, and remove in me all that is need to fulfill God's purpose and plan for my life. When the time comes, may He say, "Well done, good an faithful. . . " (Chaska, Minnesota)
Get in Line
Thanks for the book. Just finished chapter four. Awesome word on alignment. (Lake Park, Minnesota)
Ready to Run
I just finished your book.  I am ready to run out into the streets and tell everyone about Jesus!  Seriously!  It was a great book and really encourages you to get back out there.  Tom, you could get a whole program together for teaching evangelism in the churches.    Oh one last thing.  You mentioned in the book all the programs the churches have.  This is true even in the "born again" churches.  We teach classes on "How to live in victory",  or "How to overcome" etc…………………….. and they are important.  But we need to teach on "How to Evangelize", "How to share your faith".   It sorta turns out like the prayer meeting.  Very few show up.  What to do????  Share Tom Shanklin's book and fire them up!  Hallelujah! Blessings to you and Susan, (Minnesota)