The Mission of the Church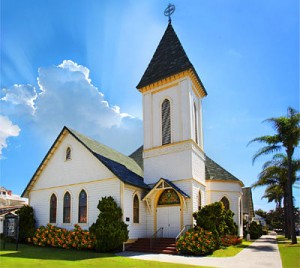 By Tom Shanklin
"And I say also unto thee, That thou art Peter, and upon this rock I will build my church; and the gates of hell shall not prevail against it." Matthew 16:18, KJV.
Peter was the impulsive one of the bunch, bold, blunt, outspoken, and ready for action. Jesus asked his disciples, "Whom do men say that I the Son of man am? And they said, Some say that thou art John the Baptist: some, Elias; and others, Jeremias, or one of the prophets. He saith unto them, But whom say ye that I am? And Simon Peter answered and said, Thou art the Christ, the Son of the living God." Matthew 16:13-16, KJV.
Peter had learned something, indeed, but not in the classroom. A revelation, an unveiling of truth, had come to him from the Father above, and because of this, he knew in His heart that Jesus is the Christ, the Savior of the world. Jesus had become real in His life. When it comes to Jesus, your neighbor's opinion is not the most important thing, nor the opinion of your mother or father or society's. The important question is, "Whom do YOU say that I am?" Are you hiding your opinion about Jesus under a basket, or are you like Peter, bold to proclaim Jesus is Christ, the son of the living God!
As Peter spoke these words, I can just see a smile come upon the Master's face, a look of approval and satisfaction. One of His students had "got it." The truth was sinking in. He then spoke these words, "Blessed art thou, Simon Barjona: for flesh and blood hath not revealed it unto thee, but my Father which is in heaven. And I say also unto thee, That thou art Peter, and upon this rock I will build my church; and the gates of hell shall not prevail against it. (Matthew 16:17-18, KJV).
This is the rock, the revelation upon which the church is built. Without this truth, there is no  church, and no mission nor meaning to Christianity. As the Apostle Paul stated succinctly, "This is a faithful saying, and worthy of all acceptation, that Christ Jesus came into the world to save sinners; of whom I am chief." (1 Timothy 1:15, KJV). The fact is everyone needs Jesus!
Jesus said, Simon you are blessed. Come to the head of the class. Not only do you have the revelation, but you are bold to speak it out in front of your fellow classmates.  I will build my church upon this revelation, and the gates of hell will not prevail against it. Jesus was saying, "I will build you up, strengthen you and give you authority, and the devil doesn't have a chance."(Tom's paraphrase)
"Gates" in the Bible are a symbol of authority and rule. Sadly, Satan has authority in many people's lives because of their rebellion against God. . . but through the church which carries the revelation of Jesus Christ, the power of Satan will be crushed. This is God's plan and purpose for the church today, that we would rise up in the power of the Spirit and the name of Jesus and crush the works of the enemy all over the world. God is raising a mighty army to do His mighty work in this day and hour.
Jesus was not speaking here about His church as a cowering group of spiritual weaklings, hiding out and bearly making it against the onslaught of the enemy. Jesus said, the devil is not going to win. Why? Because the church of Jesus Christ will rise up and crash the gates of the enemy. Like an invading army, we will rise up in the power the spirit and flatten the devil's defenses and take away his power. This is our realm of authority. This is our role in life.
Jesus gave us a message of Kingdom authority. We are like the soldiers that the Centurion spoke of who are under authority, having authority. As we surrender our lives to the Lord, He gives us authority to take back this world from the Satan and his cohorts. He told Peter, "And I will give unto thee the keys of the kingdom of heaven: and whatsoever thou shalt bind on earth shall be bound in heaven: and whatsoever thou shalt loose on earth shall be loosed in heaven." Matthew 16:19, KJV. We are to go forth in His name a set the captives free.
But in order to fulfill our destiny, we must align ourselves with the Lord and His purpose and get moving in His direction, instead of our own. We must quit playing church, and following every wind of doctrine, every movement, and get busy with the Lord's number one priority, which is souls. We must wade out into the deep things of God and take this world for Jesus Christ.
Jesus Believes in His Church
Jesus believes in His church. He said, "I will build my church and the gates of hell will not prevail against it." The church is us. It's not a building or a denomination or an institution, it's people who believe in Jesus. It's the body of Christ. The church is you, if you are a believer in Jesus. The word translated  "church" means "a called out assembly." The church is people all around the world who have been called out of the world as followers of Jesus Christ.
A few years ago I was driving to a meeting in a church in northern Minnesota when the Lord spoke to me, saying, "Are you mad at my church?" Immediately I responded, "Aren't you?" I was dead serious. He then spoke to me in the most tender voice, "Son, I love my bride." His words carried the meaning and revelation to my heart that some of my attitudes toward the church were an insult to Jesus. It would be like if I had a friend, and I kept criticizing his finance or wife for her faults. It would be an insult, and hurtful to our relationship.
Like many people, I have been frustrated, angry, hurt, maladjusted, and disturbed by what I have experienced in what we call the church. Many times in my Christian life I have been amazed by the hypocrisy, the carnality, the callous indifference to people's feelings and needs, both in the leadership and in congregations.
Yes, there are a lot of problems in the church. But then we need to realize, We ARE the church. We who believe ARE the visible representation of Jesus Christ in the earth. So then, WE must rise up and be healed, walk in love and demonstrate Christ in this earth. If people are acting wrong in the church, we must act right. We have to "be" Jesus to someone, and treat people right. Screaming at the darkness will accomplish nothing. We must be the light that shines brightly in a dark world.
We see news stories about "church leaders" abusing children. We experience conflict in church settings. We hear people spewing hate in the name of Christ. We see contradiction between what is preached and what is lived. We see hypocrisy in the pew and in the pulpit, and we think, "The church is bad." But the truth is, people have done bad things in the name of Christ. People have missed the mark, and brought a reproach to the name of Jesus. But the church (as Jesus conceived it) is good, and according to him, it will not fail.
In spite of the weakness, failures, ineptitude and misplaced values that exist in all of us, we must realize that the church is Christ's body, His bride, and it is the hope of the world. The reason is that we have Jesus, and He is the only hope for this dark world. As the head of the church, Jesus has a plan to use us to fulfill his mission to seek and save the lost. Our part is to cooperate with that plan and bring glory to His name.
What about God's Vision?
"And the LORD answered me, and said, Write the vision, and make it plain upon tables, that he may run that readeth it." Habakkuk 2:2, KJV.
Many times I have preached from this passage of Scripture about the need to seek the Lord's vision for our individual lives, to write it down, and to run with it. It's a great motivational tool, and a key for success in life. But there's another thought here that we need to see  concerning the Lord's vision—His plan for the earth. We need to discover the Lord's vision for humanity. We need to learn about his priority and purposes. The prophet was instructed to "write the vision and make it plain, that he may run that readeth it.
God is interested in getting His vision inside of us, so that we may run with it. God never intended to have a lethargic church that is wandering idly through life, wondering what to do, following the flesh, showing up when they feel like it, following the impulses of the flesh. No. His intent is to give us direction, purpose and power, to set us a part for his Holy eternal purposes. He's looking for an army of disciples that will rise up and do His work in this hour.
God spoke the vision through the prophet, "For the earth shall be filled with the knowledge of the glory of the LORD, as the waters cover the sea." Habakkuk 2:14, KJV.
You see, God has a vision. He is not without a plan. We may look at the world from our narrow perspective and see problems, weakness in the church, sickness, pain, wars, earthquakes, and it may regiser on our hearts as hopelessness. But God sees from the beginning to the end, and He says, "The whole earth shall be filled with the glory of the Lord."Often, we look at things with natural eyes, but the Father of spirits has a plan, and it will come to pass. God's glory (His manifested presence) will fill the whole earth. It will fill India, and Pakistan, and Afghanistan, and the African continent, and China, and South America. It will fill the bars. It will fill the hospitals. It will fill the institutions of "higher learning." God's glory, and the knowledge of that glory will fill the earth.
That's God's vision. It will come to pass, but He told the prophet, Write it down, that he may run that reads it. Because, you see, the vision involves you. You and I must RUN with the vision. We've got to get it down in our hearts and RUN with it, because we are the instruments of change in the earth. We are carriers of the glory.
How is God's glory going to fill the earth? Some have the idea that one day we're going to wake up and the glory of God will be in the skies over us and it will saturate the atmosphere. It will just come upon us magically. But the truth is that the church of Jesus Christ will carry the glory into all the earth.
You see, Jesus died for our sins on Calvary's tree 2000 years ago. He was buried, but death could not hold Him. He rose again from the dead incorruptible. He told His disciples. "All power is given unto me in heaven and in earth. Go ye therefore, and teach all nations, baptizing them in the name of the Father, and of the Son, and of the Holy Ghost: Teaching them to observe all things whatsoever I have commanded you: and, lo, I am with you alway, even unto the end of the world. Amen." Matthew 28:18-20, KJV.
Then He ascended into heaven bodily, and poured out His Spirit. So the church, having received the forgiveness of sins through the cross, was now eligible to receive power and authority and glory from heaven. So, He poured out His Spirit on Pentecost, and that same Spirit is with us today. The Father and the Son and the Holy Ghost have taken up residence within us as believers and we are carriers of this glory. When we walk into a store, God walks in that store. When we travel to a foreign land, God travels with us. When we walk about our house, God is walking.
We are to carry His presence and glory to a lost and dying world. Like Peter, who when he walked down the street people were healed. "Insomuch that they brought forth the sick into the streets, and laid them on beds and couches, that at the least the shadow of Peter passing by might overshadow some of them. There came also a multitude out of the cities round about unto Jerusalem, bringing sick folks, and them which were vexed with unclean spirits: and they were healed every one." Acts 5:15, 16, KJV. Peters shadow was an emanation of the glory of God from his life. That is God's plan for you and me, as well. As Jesus said, "Verily, verily, I say unto you, He that believeth on me, the works that I do shall he do also; and greater works than these shall he do; because I go unto my Father." John 14:12, KJV.
In the Old Testament, God was contained in the arc of the covenant in the tabernacle in the wilderness. His glory was in the Holy of Holies. But today, we are the temple of God. God is living in us. And we are to carry Him out to a lost and dying world. This is not for our glory, it's for His. The excellency is of God. "To whom God would make known what is the riches of the glory of this mystery among the Gentiles; which is Christ in you, the hope of glory:" Colossians 1:27, KJV.
The Bible tells us that Christ's body, the church is ". . . the fulness of him that filleth all in all." Ephesians 1:23, KJV. So you see, the whole earth shall be filled with the glory of the Lord. How? By the church, by people, by you! You see, we have an awesome privilege, an awesome responsibility. We are literally carrying God to a lost and lying world.
God's will for His church is that we would live every day filled with his presence and his glory, strengthened with might by His Spirit in the inner man, filled with the fulness of God, that the love of Jesus would ooze out of our pores wherever we go. As we yield ourselves to His truth, His revelation and His will, we will see this come to pass, and the earth will be blessed and filled with the knowledge of the glory of the Lord.
Natural Israel failed to go up and possess the promised land that had been given to them by God. They saw the problems. They saw the giants. They saw their own weakness and inability. But they failed to account for the greatness of God. God was about to destroy Israel and raise up a new nation under Moses, but Moses interceded and God had mercy and spared them. But because of their unbelief, they were consigned to wonder in the wilderness for 40 years. God told Moses he had heard his prayer and would spare the people. That's when he said, "But as truly as I live, all the earth shall be filled with the glory of the LORD." Numbers 14:21, KJV.
God may encounter doubt and unbelief and unfaithfulness amongst his people, but nevertheless He will have His way. His vision will be fulfilled. The earth shall be filled with His glory and you and I are part of that fulfillment.
Behave Yourself in the Church
"But if I tarry long, that thou mayest know how thou oughtest to behave thyself in the house of God, which is the church of the living God, the pillar and ground of the truth. And without controversy great is the mystery of godliness: God was manifest in the flesh, justified in the Spirit, seen of angels, preached unto the Gentiles, believed on in the world, received up into glory." 1 Timothy 3:15, 16, KJV.
Paul was writing to Timothy about how to behave in church. This is a very important area. Some people have no idea how important it is to act right in the church. They backbite and struggle and act like the world in the church, and they wonder why we're not reaching the world. It's because the church is all tore apart by your words and actions. We need to learn how to treat one another in the church, because we are not only an army, but we are a family, and the way we act will determine our effectiveness in reaching this world for Jesus Christ. Jesus said, "By this shall all men know that ye are my disciples, if ye have love one to another." John 13:35, KJV. We need love and purity in the church in order to touch this world.
We are also carriers of "the mystery of godliness." We are the pillar and ground of the truth. A pillar is a column or a support to hold something up. We are to hold up the Gospel of Jesus Christ. The word "ground" means a stay, prop, or support. You see, we are foundational to the stability and success of God's work in the earth. The Scripture says, "If the foundations be destroyed, what can the righteous do?" Psalms 11:3, KJV.
The church is in charge of maintaining that foundations. The problems in society are a reflection of the church's failure to raise up a standard and preach a clear message. Today, the foundations of the virgin birth, the divinity of Christ, the Blood of Jesus, the resurrection of Chirst, a call to repentance and holy living are under attack. Many have succumb to the undermining effect of humanistic worldly thinking and have abandoned the truth of God's Word.
We are the pillar and ground of the truth. We need to stand for something. We need to get back to preaching a biblical message. We need to hold up the message of the cross, and Jesus Christ, the light of the world. There is no other name whereby men and women, boys and girls may be saved!
Let's Get Back on Track
When a corporation gets off tract, it has to get back to its mission, its reason for existing. Sometimes a company becomes so diversified that it looses its synergy, and its sense of purpose. When the situation is examined, it is discovered that the company has diverted from its mission and has become weak. This is what has happened to the church. We've gotten into everything but winning souls. As a result, we lack purpose and we lack power.
Today we have a lot of programs, teachings, movements and fads, which are distracting us from the real purpose of the church, which is to reach the world. These are not all necessarily bad things. But sometimes good things can be the enemy of the God thing. In order for us to be successful, every activity of the church must come under the priority of the Great Commission. Before Jesus left this earth, He left us instructions. He said, "And he said unto them, Go ye into all the world, and preach the gospel to every creature." Mark 16:15, KJV. This is His number one job and His priorities have not changed.
Oswald Smith, the great missionary pastor from Toronto, Canada, said, "Oh my friends, we are loaded with countless church activities, while the real work of the church, that of evangelizing and winning the lost is almost entirely neglected."
The message of the church to the world is "Jesus Christ and Him crucified." This is why He came and why the church exists. . . to save sinners. The clear and indisputable teaching of the Word of God is that without Jesus Christ we are all without hope and without God and headed for an eternity of torment in the fires of hell. Judgement is sure for all of us, and much deserved. You and I are on a rescue mission to save humanity from the torments of an eternity in hell.
When Jesus walked this earth, he clearly understood His mission and purpose, ""For the Son of man is come to seek and to save that which was lost." Luke 19:10, KJV. Jesus had a clear mission, and everything else was built around that. When he called the disciples, His purpose was to reach the lost. When he taught the sermon on the mount, his purpose was to reach the lost. When he went to the cross, His purpose was to reach the lost. When He rose from the dead and poured out His Spirit, His purpose was to reach the lost. He came to seek and save the lost. This is His heartbeat. This is the heartbeat of His Father, then and now. Nothing has changed. The Father is looking for the his children to come home.
Today, you and I are strategically placed on this earth "to seek and save the lost." That is our purpose. That is our mission. Everything points to it. This is God's direction for our lives.
In Acts, he told them, "But ye shall receive power, after that the Holy Ghost is come upon you: and ye shall be witnesses unto me both in Jerusalem, and in all Judaea, and in Samaria, and unto the uttermost part of the earth." Acts 1:8, KJV. This was the last message Jesus spoke before He ascended into heaven. It's the one thing He wanted most for His disciples to remember, and to strive to accomplish. You see, nothing has changed. The plan is consistent. In spite of all we know and have learned and developed, it still comes down to one basic plan and purpose. Win the world. Reach the lost. Touch the world for Me, says the Lord.
If you want to know the truth, this is the reason the church has so many problems. She has lost sight of her purpose, and has become sidetracked. If we would get back to what God has called us to do, we would find that we would have victory in our lives, joy in our steps, and harmony in our churches. Why? Because this is what we were made to do. Nothing else will work!
We emphasize becoming a better you, success in life, becoming fantastic Christians. We're busy selling soap and vitamins and every other multi-level business scheme. Our preachers are off on some side trip getting in to trouble. Meanwhile the world is going to hell in a handbasket. It's time to examine ourselves and repent.
"Because thou sayest, I am rich, and increased with goods, and have need of nothing; and knowest not that thou art wretched, and miserable, and poor, and blind, and naked: I counsel thee to buy of me gold tried in the fire, that thou mayest be rich; and white raiment, that thou mayest be clothed, and that the shame of thy nakedness do not appear; and anoint thine eyes with eyesalve, that thou mayest see. As many as I love, I rebuke and chasten: be zealous therefore, and repent." Revelation 3:17-19, KJV.
I tell  you. Jesus loves His church. His church is His bride. He loves her. In spite of her flaws and blemishes, Christ loves the church, and gave Himself for her. And he will perfect his bride and bring her into her destiny. He rebukes us because He loves us to much to leave us the way we are.
I like what William Booth said to the church of his day. He challenged them to re-prioritize their Christian lives. "You have enjoyed yourself in Messiahianity long enough. You have had pleasant feelings, pleasant songs, pleasant meetings, pleasant prospects . There has been much of human happiness, much clapping of hands, and much shouting of praises – very much of heaven on earth. Now then, Go to God and tell Him you are prepared as much as necessary to turn your back upon it all, and that you are willing to spend the rest of your days struggling in the midst of perishing multitudes, whatever it may cost you"
It's time for change in the body of Christ. It's time to get off our high horses of denominational snobbery and divisiveness and be about the Father's business. I believe when we see the Lord's vision for glory in the church, many of our divisions and struggles will melt away. When we see what the Lord's real passion is, and how He has invited us to come away with Him and work in the vineyard, we will see a progression in the church that we have never seen before.  I'm talking about a real revival . . . a revival of righteousness. . .  a revival that births souls into the Kingdom of God. . . and a unity birthed by the Spirit that will make our separatist doctrines seem meaningless.
We need to be birthed into His purpose, into His vision. We need to get the heart of God, which comes only through intimacy with Him. We need to lean on his breast and hear His heartbeat. It beats for the lost, dying, crying sighing humanity. His heart beats for the world.
Go to the Next Level
From that time forth began Jesus to shew unto his disciples, how that he must go unto Jerusalem, and suffer many things of the elders and chief priests and scribes, and be killed, and be raised again the third day. (Matthew 16:21, KJV).
Jesus the teacher now saw that his students were ready to progress to the next level of learning. They were ready for preparation for their next test, when He would be removed from them through death on the cross. They were now ready for their next class, Suffering 101.
But Jesus' star student had a strong reaction to Jesus'  statement, "Then Peter took him, and began to rebuke him, saying, Be it far from thee, Lord: this shall not be unto thee." (Matthew 16:22, KJV).
No one reacts well to the message of suffering. It is not pleasant for the soul to think of losing one's best friend, mentor and teacher, and to think that the One you had thought would be King over Israel and bring deliverance was now to be slain by evil men.
Jesus, however, reacted strongly to Peter's rebuke.
But he turned, and said unto Peter, Get thee behind me, Satan: thou art an offence unto me: for thou savourest not the things that be of God, but those that be of men. (Matthew 16:23, KJV).
How does it feel to go from the head of the class to the one wearing the dunces cap? One minute Jesus is calling Peter a blessed man with tremendous spiritual insight, the next minute he's calling him Satan. It just goes to show you that a person can have great revelation in one area and be completely in the dark in another.
This, I believe is where much of the church world is today: full of revelation on Jesus the Messiah, understanding the mercy of God as revealed in His Son, but lacking in revelation in the area of what it means to suffer for the cause of Christ.
Jesus understood that in order for mankind to be saved, He must die on the cross. He must give up His will and desire and pleasure that someone else might be saved. Jesus understood that this was the Father's will and purpose for HIm.
Peter, however, did not have a clue. He wanted a Savior without a cross. He wanted deliverance, but no blood. He wanted the blessings to flow, but no price to be paid. Jesus told Peter, You don't savor the things that are of God, but the things that are of men.
"Savor" is an interesting word. The closest definition to Jesus' meaning here is "to taste or smell, especially with pleasure" or "to appreciate fully, enjoy or relish." The word makes me think about a nice, juicy steak, prepared just right. When you eat it, you savor the flavor, take your time and enjoy.
The Greek word translated "savourest" in the King James Version is "phroneo" meaning to think, to have an opinion, to direct one's mind to a thing, to seek." The word is also used in Philippians: "Let this mind be in you, which was also in Christ Jesus:" (Philippians 2:5, KJV).
The idea here is the we as Christians are to let (or allow) the mind of Christ to dominate our soul. We are to change our thinking to be conformed to Him who was willing to sacrifice Himself for others. . . to lay down His rights, privileges and even His very live, so that others might find eternal life. Through His obedience, He became the author of eternal life.
It was this idea of self-sacrifice that Peter rebelled against. Peter eventually learned his lesson, but not with out some training in the school of hard knocks. Later he would write, "Forasmuch then as Christ hath suffered for us in the flesh, arm yourselves likewise with the same mind: for he that hath suffered in the flesh hath ceased from sin; That he no longer should live the rest of his time in the flesh to the lusts of men, but to the will of God." (1 Peter 4:1-2, KJV).
Peter came to realize that the willingness to suffer was a much-needed weapon in the arsenal of a successful Christian, and that in fact without this essential lesson, the believer would never progress into sanctification and victory over sin.
Jesus took his confrontation with Peter as an opportunity to teach His disciples. "Then said Jesus unto his disciples, If any man will come after me, let him deny himself, and take up his cross, and follow me. For whosoever will save his life shall lose it: and whosoever will lose his life for my sake shall find it." (Matthew 16:24-25, KJV).
Wait a minute, I hear someone saying. I thought Jesus was the "One" who went to the cross for us. But here he is telling His disciples, and he is telling you, to take up your cross and follow Me. The truth is that to be a Christian is to be "Christ-like" and to be Christ-like, we must be willing to suffer that others may be  blessed.
If our focus in life is "me, myself and I," or "us 4, no more", we do not yet have the heart of God. The heart of God is for the world. That's why He sent Jesus. . . and that's why He's sending you. If you seek to save your life, you will lose it. If you lose your life, you will save it. We enter into life by giving up our will and pursuing His will. You may be comfortable sitting in your ranch style house in the 'burbs, sipping ice tea, and watching football, but God has something more for you, and it involves sacrifice for His cause.
Whether you want to agree with it or not, suffering is a part of the Christian life. I'm not talking about suffering sickness and disease and poverty and oppression of the mind, but I'm talking about suffering persecution and hardship for the cause of the Gospel. "Yea, and all that will live godly in Christ Jesus shall suffer persecution." (2 Timothy 3:12, KJV). As Paul told Timothy, "Thou therefore endure hardness, as a good soldier of Jesus Christ. (2 Timothy 2:3, KJV).
There was a price to pay for redemption. Jesus, the Son of God paid that price. But there is also a price to pay in order to spread the message of redemption. The world will not be won by compromising Christians, anymore than a war will be won by soldiers who are ready to run. We must be willing to pay the price to touch the world. Paul paid a price for what he accomplished for the Lord. We are all reaping the benefits today. Peter and the rest of the Apostles suffered for their stand for the Lord. The missionaries who pioneered with the Gospel into Asia, and Africa and the Americas suffered for the cause of Christ. And many are suffering today in order to get the word of the Gospel our to a lost humanity. Following Christ means following Him in His example of self-sacrifice and selfless love.
This glitzy, self-serving form of Christianity that we have in the United States today would be totally foreign to the early church. They knew what it meant to "take up your cross." They understood that becoming a Christian meant self-denial, sacrifice and enduring persecution.
When Jesus called His disciples, He told them, "Follow me and I will make you fishers of men." He did not say, "I will make you acceptable, dignified and religious." He did not say, "I will help you to develop great institutions, build great buildings, and learn how to speak Christianeze." He didn't promise to make them political movers and shakers. He didn't say He would make them multi-millionaires. No, he said He would make them "fishers of men." In other words, he would show them how to cast a net and bring men and women, boys and girls into the kingdom of God, so that they might have eternal life and escape the torments of hell.
Now, I have no doubt that God does lead people into the political or business realms. And He leads ministries to build buildings and to organize. But the point is, these things are secondary to the real purpose. They only have real meaning as they contribute to the cause, the mission of the church. Too often in the church, we have majored on the minors and minored on the majors. Let's get back to what's really important to the Lord, winning this world for Jesus Christ.
John Wesley, the founder of the Methodist movement, said, "You have one business on earth-to save souls" Everything in the New Testament points to this clear direction. Jesus called His apostles to be "fishers of men." He gave them a commission to preach the Gospel in all the world, not to create an ecclesiastical hierarchy. No matter what our position or rank or title in the body of Christ, it is still all about one thing—souls. Paul told Timothy, who was a pastor, "Do the work of an evangelist."
And Jesus said to all believers, "But ye shall receive power, after that the Holy Ghost is come upon you: and ye shall be witnesses unto me both in Jerusalem, and in all Judaea, and in Samaria, and unto the uttermost part of the earth." Acts 1:8, KJV.
The purpose of the power of the Holy Ghost is not so we can hide out in a building somewhere and prophesy over one another. It is not so we can develop endless programs to edify and please the people that are already in the church. Jesus spoke in a parable and said the shepherd leaves the ninety nine saved sheep to go after the one that's lost. He's given us the power of the Holy Ghost to what? To be witnesses unto the uttermost part of the earth.
Today, you and I can enter into His sufferings. We can become conformable to His death. We can see that the important things are not those things which we see with our physical eyes, but they are realities in the realm of the spirit. We can come into the deeper life, where we touch the heart of God and then go and do His bidding. We find meaning, we find joy, in what we do for others. We find what is important to the Father and we become willing to do what it takes to fulfill His mission. We embrace the cross of Christ to bring healing to the nations. You are called to touch the world.
God has a plan for this earth and you and I are part of it. Each of us have a destiny to fulfill within the framework of God's vision. Together in unity we can work out and see the fulfillment of our Father's dream. We are all part of the Father's business. We are in the fishing business, fishing for souls, reaching out to lost, dying humanity, touching lives wherever we go. We are in the farming business, bringing in a harvest of souls for the Father's house.
It doesn't matter who we are, young or old, white or dark, whether we are a business person, a preacher, a farmer, a homemaker. Somewhere, you fit into the plan of God. God has given you a special grace. It may be as a teacher or a pastor or a homemaker. Wherever God has placed you, you can touch the world. As the Apostle Paul says, "I can do all things through Christ who strengthens me." Phil 4:13) You and the Lord are a  great team. And as you unite with other believers, great power and authority is released to touch this world for Jesus Christ.
Dear Father, I repent of looking only to my own things, and not carrying about a lost and dying world. Fill me with your presence and your power, that I might touch the world for you, in Jesus name. Amen.