The Healing CD: Healing Scriptures and Prayers by Tom Shanklin (Available in CD & MP3)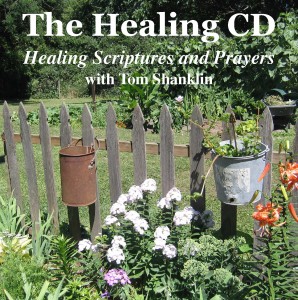 Originally released as "The Healing Tape," this valuable tool has helped many to find divine healing through God's Word. It's not a sermon, but rather a collection of scriptures, confessions and prayers designed to help the sick regain sound health in their spirit, soul and body. With a voice of compassion and strength, Tom leads the listeners on a journey of healing in the Word of God. As you listen to these powerful scriptures and prayers, your faith will come alive for healing in every area of your life.
Check out the Scriptures for The Healing CD & MP3
 Order Today!
If you enjoy our products, please review them on Amazon and iTunes. It will help us to get the word out and help more people. Thanks!
Feeling Better in North Dakota
Thank you for sending a CD to me and to my daughter. She has been very sick with allergies and chronic fatigue. I feel she will be healed by listening to the CD and that she will be drawn closer to our God and Savior. I listen to the CD every time I can. It makes me feel better right away. I am so glad I found your program on the radio on Jamestown 600.
Blessed and Encouraged
I've listened to your podcasts and purchased your healing scriptures CD from itunes. It blesses & encourages me, I just love the Word of God. Jesus is the word. May God continue to bless your ministry. Thank you once again for sharing & helping me. God Bless. (United States)
Drawing Closer to God
I Purchased your healing CD from iTunes, it is really a blessing, I am grateful you promote God's forgiveness, your message about forgiveness on this CD makes me want to draw closer to God, yet I have a greater desire for holiness. I have a health situation that is chronic, that I have had for over 20 some years. I am grateful that your message tells me we worship a God of a second chance, although I can't, and don't take God's/Jesus's forgiveness for granted, I want to be obedient in my walk with Jesus,I have come to believe salvation through Jesus Christ is the greatest opportunity of my, or anyone's life. I read my bible every day, and am involved in a small prayer group, as well as church services every Sunday. I try and read through the bible at least once a year. (Pennsylvania)
Healed of Diabetes
In 1996 I was diagnose with diabetes. My grandmother had diabetes. I had all the symptoms, thirst, tiredness, my eyes were affected, and more. I had a lot of prayer, started claiming a healing, and I believed my healing was coming even though the symptoms were still there. I did than, and still do believe in the Laying on of hands. This past summer I was visiting Pastor Tom Shanklins church when he preached on Blessing and Curses, I ordered that tape, plus two more on the same subject, I also got the Healing tape with Scriptures of healing on it. As soon as the Blessing and Curses series came out I got that. I listened to these tapes at home and in my car, I studied them, and took down notes. Putting to practice what I was hearing. I believe God showed me thru these tapes what I needed to know, understand, and do. I found all of these tapes to be excellent. My symptoms were leaving me and they are now gone. I had my Diabetic Check up done a couple months ago , The Doctor checked over my tests and told me he did not think that I had diabetes. He wanted to do more tests. I came back in a couple days for the results and he said, " I see no sign of diabetes in you," I give all the Glory, Honor and Praise to my Lord and Savior, Jesus Christ. (Blaine, Minnestota)
Thanks for the Healing Tape
I recently ordered (and received) your Healing Tape. I just wanted to let you know that you did a great job in making the tape. Your voice is very soft and soothing and the delivery is excellent. The scriptures, of course, are wonderful. My husband and I listened to the tape while driving and I do believe that God is healing us. I've sent the tape to a sick friend in Grand Marais, Minnesota and I believe God will minister to her needs also. You're doing a great job. Thank you.Eileen Landgraf Chronic Headaches Healed
I am a 43 yr. old woman who has suffered from chronic headaches since a gymnastics injury from my high school days. Within the last 10-12 yrs. the headaches have been getting worse, to the point of this past year I would have moderate to severe headaches 5 out of 7 days a week. This condition caused me to see chiropractors often. It would affect my vision and capability to work. Recently at the request of my 21 yr. old daughter I once again returned to a medical doctor who said he thought I also may have polymyalgia. I was having severe pain in my shoulders and arms in addition to the headaches. I have been prayed for for these symptoms many times in the past ten years. About three months ago I started listening to a healing tape that Pastor Tom Shanklin made, that has scriptures on it, of Jesus healing. I have a fifteen to twenty minute drive to and from work daily. I listened to this tape to and from work over and over again. I would like to give Jesus Christ all the glory, praise and honor that as that word penetrated into my spirit, I have not had severe pain or headaches for eight weeks now. I am free indeed! Jesus gave me absolute victory over my problem. 
(LeSueur, Minnesota)
Healed of Severe Back Pain
I am a retired nursing home worker who attends a Greek Orthodox church in Mpls. I had gone to the doctor for severe back pain and he said it could be a slipped disc, arthritis or sciatica. He put me on pills and for six days I took them but no easement of the pain so I quit taking them. My friends invited me to the Healing service at church and I almost backed down. But I went. When Pastor Shanklin called people who needed healing to come down. I asked my friend if I could go..because I don't go to church I didn't think I could, but she said yes so I did. Pastor Tom and Susan prayed for me and I KNEW I was being healed. There was such heat that went through me I began to cry. I felt so good. My back was healed! I am so glad I went. I believe in the healing laying on of hands and recommend it to anyone who will believe. It is better than pills!! Before I had to take the elevator now I take the stairs.I listen to Pastor Shanklins Healing Tape every morning while I have coffee and every night before I go to bed. I am so thankful! I feel better every day. 
(LeSueur, Minnesota)
Headaches Healed by God's Word
I was suffering from headaches with almost no let up. The usual meds didn't touch them either. My doctor had wanted me to have some tests such as an MIR. That wasn't to be an option because I don't function well in tight places. I didn't want to take any strong meds so I had told her I would think about what I wanted to do. In the meantime the headaches simply were not going away. I would wake up at night suffering from them. Sandy mentioned something about her church having a tape that her pastor had made with Bible verses on healing. I got one and listened to it for several days in a row. I started to quote the Bible verses and come against the headaches with the Word and the headaches started going away. For a while the headache would return but it did not stay when I used the Bible verses against it. Now I hardly think about it any more. I am healed of headaches but I still listen to the healing scriptures just to reinforce the Word in my life. something I learned from this experience however was this. Those constant headaches really wore me out and people who have really serious physical problems need to be prayed for to withstand the actual mental stress as well as the physical stress of dealing with a disease. I have prayed with people coming against the disease that they are dealing with but I never thought about the mental stress of dealing with a serious disease. Do you understand what I am trying to say.? God healed me of headaches but He taught me a valuable lesson as well. Praying for people who are ill is a two fold prayer. You probably already know this but I needed to verbalize it. You asked about Rich Pratts problem. We gave him a tape too. He has had two really bad heart attacks and is in pain (from the attacks or something else I am not sure) but I will give him your e-mail address and ask him to share with you about it. Thank you for making the tape and Thank God for His Love towards us. Have a wonderful day.
 (St. Peter, Minnesota)
Peace Received through Healing Tape
My two sons were involved in a motorcycle accident on march 3. I was given your Healing Tape, and it was very encouraging. I made many trips to North Memorial Hospital and it was a welcome treat to hear your uplifting words. I'm not sure if you or others in your church family knew of the accident and were praying along with Ann, but we were certainly feeling God's Amazing Grace as we made it through each day with a sense of peace.that can only happen through prayer, and I thank you very much.
 (LeSueur, Minnesota)