A Blessing to Many in the Body of Christ
Greetings in the Lord Jesus Christ!
I am writing this letter to commend Tom Shanklin Ministries. We have had Pastor Tom come to our parish on different occasions, and the ministry done among us is of the highest biblical caliber. Further, the Lord confirms the preached word by many healings in the name of Jesus.
We have witnessed people healed of arthritis, back pain, neuropathy, etc. What is more, the Lord has healed people emotionally, bringing many to recommit their lives to Jesus and serving Him.
This ministry has been a blessing to many in the Body of Christ, from numerous denominations. I myself am a Lutheran pastor of the AFLC, and as we hold these meetings there are many people from Roman Catholic, Lutheran, Presbyterian, Assembly of God, Mennonite,  Methodist, and Non-denominational backgrounds who come to receive the Word of God and get changed by the Holy Spirit. The Lord is using Tom's ministry to further the revival of the Church.
If you want to contact me to find out more you can call me at 701-292-4341.
Blessings in the Lord Jesus Christ!
Pastor Robert Buechler
Trinity-Bergen/Lake View Lutheran Parish
PO Box 46
Starkweather, ND 58377
Susan Recommended for Any Group that Needs Motivation
I have been fortunate to hear Susan speak several times and each time I come away inspired and motivated. She relates so well with her audience as she tells her story of her weight loss journey.
Susan has a gift of bringing her audience into her program. She speaks from the heart.. She has lived through being overweight and can relate to members of our TOPS groups with her story in taking off weight and now with keeping it off. Her book, "Help, I want to lose weight!" is fabulous – once you pick it up you won't put it down until you have read it from cover to cover. I would highly recommend Susan for speaking to any group that needs motivation.
Shari Kieper
TOPS Coordinator for Southern Minnesota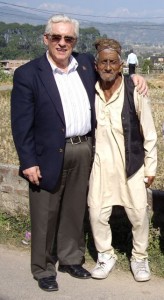 Good Report from Nepal
The following is from the Ray Phipps of Bible Living Ministries in Rapid City, SD. This is an excerpt from their December newsletter.
Tom Shanklin from Mankato, MN, accompanied us this year bringing a wealth of experience to share with indigenous pastors and Christian leaders. His experience as a pastor and evangelist made him an invaluable resource for the eager audiences to which he ministered.
In each conference he was sure to give everyone in the audience an opportunity to know the Lord as a personal Savior.  A positive and encouraging response resulted at each invitation given.  Many who were not sure of their relationship with the Lord found personal assurance as well as the many who were healed in body.
The man on the right was 87 years old and had never known the joy and peace of knowing Jesus as his Lord.  After responding to the invitation given by Tom, he committed his life to Jesus Christ. His delight and happiness was obvious to all.  About 25% of the youth made this same commitment.  This man was no doubt young at heart.
Thanks for coming and sharing. It truly was fruitful. To God be the Glory!!! Your teaching to our leadership struck a chord in me. "Let us" is the strength of long lasting and fruitful ministry. I'm planning on using this theme for our 50th Anniversary this coming June. Thank you for obeying the Holy Spirit and your ministry to this body.
Pastor Ron Breese
Full Gospel Revival Center, Kalona, Iowa
Greetings! I am writing this letter on behalf of Rev. Tom Shanklin of Mankato, MN, who is a Gospel minister of Jesus Christ. Tom was recently at our church and did an excellent job in ministering the Word of God in our special meetings. Tom communicates the Gospel message well under the anointing of the Holy Spirit. He is sensitive to the needs of people and has a good grasp on the essential truths of the Bible. As an evangelist, he fills a need in the greater Body of Christ, particularly in the local church, where members are equipped to share their faith (Eph. 4:11). The response of people and "altar times" were handled with clarity and in a non-offensive manner. It is my privilege to recommend Rev. Tom Shanklin to serve as guest minister, pulpit supply, or conference speaker. Our church has been blessed by the ministry which the Lord has given him and Susan. He will be a blessing to any group of people who call him to come to minister the Word of God. If you have any further questions, please feel free to contact me. Thank you for considering their ministry.
Rev. Timothy L. Warner, Pastor, NORTHERN LIGHTS CHRISTIAN CENTER, HAYWARD, WI
National Chairman, International Ministerial Association (I.M.A.)
Read I.M.A. Letter of Recommendation (PDF)
Dear Tom,
Thank you for your ministry at the Business Men's Fellowship Advance.  The Fisher's of Men Seminar was excellent.  It reached across political, denominational and socioeconomic lines.  I believe any men's group could benefit from it and relate to it.  I believe the personal ministry session was very powerful.  Your prayers were definitely prophetic.  Your explanation and presentation of the fullness of the Spirit was very effective.  Looking forward to the opportunity to do another event in the future together.  God's richest blessings upon you.
Sincerely,
Larry Plucker
It was pure joy to have Susan minister at our women's conference.  She was so down to earth and transparent in her life experiences.  Her teaching was laced with scriptures that everyone could apply to in their own lives.  Laughter filled the day with her witty insights.  We were all personally blessed and it was all to the Glory of God!
Pastor Joyce Caugherty
Faith Family Christian Center, Hendricks, MN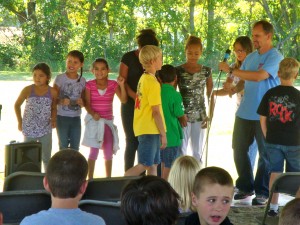 We had a great united church event in northwest Minnesota with Tom Shanklin Ministries.  Many people committed their lives to Christ and the five different churches represented were encouraged.  Praise the Lord!
Pastor Kurt Svendsgaard, Healing Waters Church, Mahnomen, Minnesota.
I am privileged to be associated with Tom Shanklin through his ministry of Evangelism. Tom is a bonafide 21st Century Evangelist. He lives and breathes with the passion to reach lost souls to come to know salvation in Christ. He understands his gift and calling to minister as an evangelist as one of the five-fold gift ministries found in Ephesians 4:11 "And he gave some, apostles; and some, prophets; and some, evangelists; and some pastors and teachers."
Pastor Virgil Amundson, SHELL LAKE FULL GOSPEL CHURCH, SHELL LAKE, WISCONSIN 
I highly recommend Tom Shanklin. Tom is sensitive to the Holy Spirit. The congregation at Northwood Church has been blessed every time Tom has ministered here. As a Pastor, I appreciate Tom's integrity with the scriptures and his willingness to minister in a variety of settings. It is obvious that Tom loves the Lord, loves people, and has a desire to see God glorified in all that he does. It is a pleasure to know Tom and minister with him in the proclamation of the gospel of Jesus the Christ.John M. Malone, Pastor, NORTHWOOD COMMUNITY CHURCH. SOLON SPRINGS.
Our church family was introduced to Tom Shanklin by one of our Board members who knew Tom for years.  Due to faith in our brother, we brought Tom to share.  We were not disappointed.  His ministry to others challenges even the most evangelistic among us and the impact of the Lord around the world through his anointed preaching is tremendous.  To me, as a pastor, the most endearing quality about Tom is his willingness to be used by God.  I took a chance, and asked brother Tom if he would return to my church, and not only share what Jesus is doing in India and elsewhere, but to preach the Word he would have preached to those lost heathens in other lands.  His spirit being what it is—humble, he welcomed the opportunity.  He came as a messenger of hope and healing, as an evangelist, and the response was nothing short of awesome; we had five seekers at the altar and some real victory was seen.  Anyone will enjoy hearing of the outpouring of the Holy Spirit wherever Tom preaches, but I believe you can experience a newness, a reviving in your church by welcoming Tom Shanklin to bring the convicting Word to your people.
Pastor Carl Black, LAMOURE CHURCH OF THE NAZARENE, LAMOURE, ND
Hello Tom, it was great to have you here with us. Next time, you should bring your wife with you, I'm sure Kareen would love to meet her. Our congregation has done something that they've never done before, and that is talk about our guest speaker and what he has said. They could not stop talking about how good the messages were and how they were inspired. I have never heard anything like it from their lips since being here, when we've had special speakers in the past. Just thought I'd let you know. Also, thank you for showing us the India video. I'm sure it inspired the children and also made them think that we have it easy here compared to their lives in India.
Pastor Alec Capay, WHITEFISH BAY PENTECOSTAL CHURCH, HUDSON, ONTARIO, CANADA
Thank you for coming here. We were blessed by your messages during the three-day weekend. Just as a word of confirmation on your message on Sunday, "Softly and Tenderly" was not originally in the works to be a hymn for Sunday. But when playing it, Barb felt the urge to put it in and then second guessed herself thinking this didn't tie into the theme of the weekend. You mentioned that it was when it was played that you felt the Lord speaking to you to speak on the Prodigal Son. So this is a word of confirmation that your message on Sunday hit the mark and the messages for Friday and Saturday were also great teaching moments. Thank you for communion with God and listening to His call to go to all places. You reminded us of our call and your words from Scripture were of encouragement to reach back to the basics and win (through the Holy Spirit) lives for Christ and to nurture them in the Word, and also to grow in the giftings as one nurtures one's personal relationship with Jesus through spending time in His presence. Thanks for heeding God's call and being His obedient servant! I thank my God in all my remembrance of you!
Pastor Craig Nelson, CALVARY LUTHERAN CHURCH, MINONG, WISCONSIN
After meeting Tom at the Gaylord Assembly of God church during a visit home to our family, we felt like the Lord wanted us to trust another minister to bring the Gospel to the people in a refreshing way.  Tom brought to our congregation the service of a minister and evangelist with the heart and background of a Pastor.  His years of experience in the pulpit and pastoral ministry enabled him to preach the strong whole message with gentleness and humility.  It was easy to have Tom with us, to have an evangelist that people can really trust.  Tom took time to minister with anyone who desired prayer.  With Tom, I really saw the perfect love of the Lord flow and as a result fear was overcome.  I felt like Tom really led people to the watering hole and no one was forced to drink.  I have been privileged to find a friend and partner in ministry in Tom Shanklin.
Pastor Tony Welman, RAMSEY ASSEMBLY OF GOD, RAMSEY, MINNESOTA
It was a blessing having Tom minister in our area. He knows how to hear from the Holy Spirit and preach the Gospel in a way that everyone can connect with "Him".
Pastors Chris and Joyce Caugherty, FAITH FAMILY CHRISTIAN CENTER, HENDRICKS, MN
Thank you so much for coming to Buffalo Community Assembly of God. I really appreciate your sensitivity to God's voice. This was evident as you shared exactly what so many of our people needed to hear about the healing power of God and His desire that we come back to the Father's house. It was also encouraging as a pastor to hear from one person after another of how God had healed emotions and attitudes that had been wounded for years. I was most blessed to see the response for salvation. It is always exciting to see people respond to the voice of the Holy Spirit. God bless and keep you as you continue to share with hearts around the world the saving and healing grace of our God.
Bill Hicks, Pastor, BUFFALO COMMUNITY ASSEMBLY OF GOD
Tom has a wonderful way of presenting the life giving Gospel of our Lord and Savior Jesus Christ. When we had him at our church, he challenged the body of believers to a higher commitment of service to our Lord and to a greater love for people. His message entitled; "Can Jesus Use Your Boat", was memorable. It alone challenged people to allow God to use all that they have for the work of the ministry. During the meetings we had people receive Jesus as their Lord and Savior, and we had people healed, physically and emotionally. I highly recommend Tom to you for the work of the ministry.
In Our Lord's service,
Pastor Bob and Cindy St. Claire, NORTHERN LIGHTS TABERNACLE RICHWOOD, MN 56577
We had the privilege of hosting Tom for meetings beginning Sat evening running until the following Thursday. Tom ministered in different formats from Prayer meetings, Congregational meetings, Cell group meetings, Evangelism on Reservations and Ministered in a group of believers in a garage. I personally attended most of these meetings with Tom and watched the Lord bless and minister in a variety of settings. Tom is uniquely gifted feels the calling to Evangelism is gifted as a teacher and sensitive as a prophetic voice. Tom is gentle and will leave your congregation built up and edified. He ministers in a spirit of encouragement that draws people to the Lord. He is easy to host and very flexible, I have no hesitation whatsoever to recommend his ministry wholeheartedly to you.
May God Bless You
Pastor Mike Davis Sr Pastor, BETHEL CHRISTIAN ASSEMBLY BRANDON MANITOBA CANADA
I am always blessed by Tom Shanklin's ministry, as he ministers the Word of God by the anointing of the Holy Spirit. I appreciate his integrity and sincerity in ministry. I would recommend Tom Shanklin for ministry in any church. Tom has a passion for people to first of all get to know Jesus, and then to live and be transformed by Him.
Norm Gullingsrud, Pastor, GOOD NEWS FELLOWSHIP CHURCH, GARY, MINNESOTA
Tom Shanklin has been a friend for many years. He is a man of integrity. His financial dealings are aboveboard. He is respected by his fellow ministers as well as his church and community. He has a lovely family. Susan is a lovely, submissive but strong wife. I can recommend Tom Shanklin with full confidence. He will be a blessing to your church family if you have him minister in your group.
Bob Buess, SWEETER THAN HONEY MINISTRIES, TYLER, TEXAS
I have known Tom Shanklin for several years and find him a sensitive man of high morals who with his wife and family are serious about his calling into the ministry. He will bring you a message from the Lord that is appropriate for today. I recommend his ministry to your church. We had Tom Shanklin do a service in our church. He and his wife were a blessing to us all with the good biblically solid preaching and sensitivity to the spirit in altar call ministry. We have known the Shanklins for 16-plus years and can without hesitance recommend them to come to your church or meetings.
Pastor Bob and Judy Holmbeck, GAYLORD ASSEMBLY OF GOD, GAYLORD, MINNESOTA
It is a pleasure for me to recommend the ministry of Tom and Susan Shanklin. It has been my personal joy to be acquainted with them and their ministry for a number of years. Tom has preached in our church many times over the years and has been a blessing to our congregation every time. These folks are committed to God's Word and yielded to God's Spirit. They are sensitive to the needs of people. They would be a blessing in any church they are invited to minister in.
In Christian love,
Pastor John Farina, ASSEMBLY OF GOD, KELLER, TX
I have known Tom Shanklin for over six years. During that time he has been an active member of the LeSueur Ministerial Association. He was instrumental in helping our group bring several special events to the LeSueur-Henderson High School. These events have become a regular part of what the LeSueur Ministerial Association does in our community. Pastor Tom has also been very generous and ecumenical in other ways. On two different occasions he has taken the time to meet with a group of God and Country Boy Scouts from the LeSueur United Methodist Church. Tom does a great job of sharing what his congregation believes and trying to tie it to the beliefs of the United Methodist Church. the boys have always walked away from these meetings with a sense of Tom's passion for the local church, evangelistic outreach and world missions work. I would recommend Pastor Tom Shanklin as a true brother in Christ. He has a genuine faith and a strong commitment to Jesus Christ.
Pastor Bill Kerr, UNITED METHODIST CHURCH, LITCHFIELD, MINNESOTA
We at World Light Ministries appreciate your going with us on our June 2005 mission trip to Ukraine. You were an asset to our group with your unique preaching abilities. You were able to preach in a way that prisoners at the prisons could understand and also able to reach the children in the orphanages. Not often do you find Pastors that can preach in Pentecostal, Evangelical, and Baptist churches. The people in the Kirovograd region, as well as World Light Ministries were fortunate to have you on this trip. Tom, ministers like you make directing a mission trip a breeze. Thank you very much for listening to God and going with us on this trip.
Your Brother in Christ,
Mike Fuller, DIRECTOR OF MISSIONS WORLD LIGHT MINISTRIES, WORLD LIGHT MINISTRIES