Lighting Gospel Fires in Nepal
By Tom Shanklin
On the behalf of the many people who received salvation, healing, the baptism of the Holy Spirit, and for all the church leaders who were trained and encouraged, I say, "Thank you for sending me to Nepal." On airplanes, churches, taxis, shops, leaders conferences, and healing services, God's Word went forth with power. We saw miracles of healing, people delivered from demons, and many precious people responding to the Gospel of our Lord Jesus Christ.
I want you to know that you are never far from my heart and mind when I minister in a foreign land. I realize that I would not be able to reach people with the Gospel without your prayers, encouragement  and financial support. When I go, you go with me in spirit, and we share all the results and rewards.
My heart is full as I think back to the events of our mission. I wish you could have been there to see tears flowing from people as they were touched by God's Spirit, the joy on their faces as they realized that the Lord had healed their bodies, and the many that stood before me to confess Jesus as Lord of their lives. These were precious and glorious scenes, which I will never forget.
I was blessed again to work with Ray and Wilma Phipps of Bible Living Ministries, who celebrated their tenth year of ministry in Nepal while we were there. By working with an established missions organization, we are able to build upon the foundation that has already been established and also to see that the harvest of souls is preserved.
Ray Phipps taught on Principles of Godly Leadership, The Family Life of a Minister, Authority of the Believer, and The Baptism of the Holy Spirit. I shared messages on The Great Commission and the Supernatural, Devotional Life of the Minister, Preaching the Gospel Message, Giving & God's Plan for Support of Gospel Ministry, and Moving in the Gifts of the Spirit.
I was thrilled to find out that the theme of all our conferences was "You Can Touch the World," named after my book which was translated into the Nepalese language and printed in October. We gave away about 500 copies of the book to those attending the conferences and left another 500 in Nepal for future distribution. Nepali church leaders are excited to use the book for training and encouraging Nepalese-speaking people to reach their world for Christ. Click here to download You Can Touch the World in Nepalese.
Leaders from at least eight different denominations attended the conferences, plus leaders from independent churches.
The day after I arrived in Kathmandu, we travelled to the Far Western Region of Nepal. Our first conference was held in a small village about 14 kilometers from where we were staying, but because of rough roads with large rocks, the drive to the remote village took about one hour each way and included a short stretch of road that took us across the border into India and back into Nepal. The road through this agricultural area was filled with ox carts, tractors pulling wagons full of large sacks of rice, buses, cars, motorcycles, and an occasional herd of sheep, goats or water buffalo. I found myself fascinated with agricultural techniques of the Nepali people.
The three-day conference leaders was held in a rural church building which was located on the small farm owned by the pastor. With the chickens scratching around, the goats and water buffalo, and fields of rice, mustard, and wheat all about, I felt right at home. My heart was overwhelmed with joy in that place, as I thought of the great privilege that I have of extending God's love in places like this.
Susan had sent some of her whole wheat bread with me, but before I could eat it, it became moldy. So I took it to the church/farm and began to feed it to the chickens, who seemed to enjoy it greatly. The pastor's wife then gave the remainder of the bread to some of the family's water buffalo. When I told the people at the conference about the special feed imported from America, they had a good laugh with me.
While there, we held a healing service and asked the leaders to spread the word around the community. About 25-30 of the 150 people attending stood to receive salvation. I had a word of knowledge about someone with a burning sensation in their chest. Four people responded, and all four testified that they were instantly healed. Glory to God!
Many others testified of healing from hip problems, knee problems, back problems, severe headaches, and other infirmities. A singing Nepali evangelist testified that she was healed of a severe problem in her throat and vocal chords. Later she sang a beautiful Gospel song.
Everywhere we went we saw immediate answers to prayer, but some of the results we will hear about later, as people realize their lives have been changed by power of God—like the demon possessed boy curled up in a fetal position who Ray and Wilma Phipps ministered to several years ago and who now is in his right mind and married with two children. Or like the taxi driver from Kathmandu, who I witnessed to on my last trip to Nepal, who is now an active church member and worker for Christ.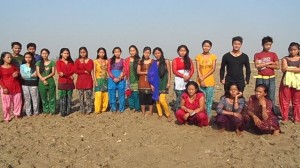 While there, 23 mostly young people were baptized in the Parasan River. The bottom of the muddy river was like quicksand, but what a glorious experience it was to see those young people buried with Christ in baptism and raised in newness of life.
We also held another one-day pastors conference in a city in the Far West Region where we were staying, where most of 45 leaders were squeezed into a small front porch and stairwell to hear the word of God. Once again, eternal seeds were planted in the hearts of these leaders.
We then traveled east about four hours to the Midwestern Region to prepare for our three-day leaders conference in another village. Again, this conference was held in a rural area, with all the accompanying sights, sounds, and smells. As we worshipped, we could hear a goat bleating next door as the smell of fresh manure drifted into the sanctuary. I believe our Savior, who was born in a barn, would also be right at home there, too.
The food for the pastors' meals was prepared behind the church, where you could see rice being cleaned on the concrete floor of an open porch, freshly slaughtered chickens being seared to remove pin feathers over an open fire, vegetables being cleaned and prepared for cooking, and spices being crushed and ground in a mortar and pestle for use in the dishes. The food in Nepal is quite good, though it is a major shift of gears for someone with a western pallet.
We had a wonderful time with about 80 leaders there. Several people responded there to a word of knowledge about a pain behind the eyes. All testified that they received immediate relief. The next day I visited with one smiling pastor who testified that he was still pain free from what Jesus had done the previous day. We noticed a tremendous receptiveness among the leaders at this place, who seemed to soak up every word with a ferocious hunger.
I visited with one of the leaders, who had pastored a church in a nearby community for over 20 years. During that time, 27 churches have been planted in remote communities through his ministry. After hearing about that, I asked the entire group how many of them were presently involved in evangelism and church planting in remote areas. I thought perhaps a handful would raise their hands, but I was overwhelmingly blessed and surprised when nearly every minister at the conference raised their hands. The Nepali ministers are apparently quite active in obeying the Lord's command to "Go and teach all nations…"
At this location, I had the opportunity to teach on the baptism of the Holy Spirit and about 35 people
who had not yet received the gift of the Holy Spirit stood for prayer. Many of them received the manifestation of speaking in unknown languages and many had tears flowing freely down their faces as they were touched by the Spirit of God.
After one of the sessions, a young woman was brought to us for prayer quite tormented in her mind and heart. She had been treated with medication, but her problem had only grown worse. We took authority over the spirit with little apparent change. I then felt led to talk to her about forgiveness and led her in a prayer to receive forgiveness from the Lord. After this, she continued to cry with obvious torment and I then was impressed to talk to her about forgiving someone who had hurt her. I led her in a prayer forgiving them and I could immediately see a change in her countenance. Later, we received a report that she was obviously free. Praise God forevermore!
We then drove for over two hours to the remote village near the southern border of Nepal near India for an open air Evangelism and Healing Festival. We started on blacktop, then a rough gravel road with large rocks, and finally to a dirt path through subsistence farms teeming with goats, water buffalos, chickens, crops and precious Nepali people. This and the nearby villages are inhabited by the Tharu tribe, which is only about .5 percent Christian. The rest are mainly Hindus.
I cannot express to you the joy that I felt as I stood before that crowd of people with their colorful tribal dress, many with the red Hindu symbols of devotion on their foreheads, a people God loves but who were far away from Him. I preached on the Prodigal Son, telling the people that as human beings, we are like this Prodigal who had gone away from his father to follow his own plans and desires. I told them of the loving heavenly Father who was waiting for them to come home and who had sent his Son, Jesus, to die for their sins.
As I spoke God's Word, I could sense the Holy Spirit wooing and drawing the people. I estimate the crowd was about 500-600 people. At least half of them stood to indicate their desire to be reconciled to God and receive Jesus Christ as Lord of their lives!
After this, Ray Phipps led a healing service where many testified of receiving healing in their bodies and demons were driven out. At the end of the service, a tribal chief told the crowd that he was not yet a Christian, but that he had seen God's miracle power. He told the people that it is good for them as a people to seek after Jesus Christ. What a wonderful thing to have the village chief endorsing the ministry of Christ!
The festival was an example of God's people working together to bring in the harvest for Him. The event was organized by a group of pastors who had been previously trained in Bible Living Ministries' Doing What Jesus Did School. On the stage, local Christians sang and testified, and performed tribal dances modified to bring the Gospel to the people. I felt it was a very good thing for God's people to stand up and be counted for Jesus at the event.
Two days after the festival, we heard that these pastors and Christian believers were already following up with the villagers and inviting them to church. With your help, Tom Shanklin Ministries was able to cover the expenses for the Evangelism and Healing Festival. We expect that the Gospel fire will continue to burn there and in the surrounding villages. After the festival, we traveled about 12 hours by jeep through the beautiful mountainous region back to Kathmandu.
Besides the public ministry, I had many personal encounters with people along the way and opportunities to share the Good News. Before I got on my first plane in Minneapolis, I shared my testimony with a 27-year old man who was on his way for a vacation in Hawaii. On my flight to my connection in China, I testified to a former Peace Corp worker and shared the Gospel with two very receptive young Chinese men. I shared the Gospel with hotel clerks and a Buddhist tea shop owner, whose employee was a Christian who had been delivered from alcohol and drugs and demon possession by the power of God. I trust that God will use my testimony and Gospel presentation along with the godly influence of this man's employee to draw this man to Christ.
I also ministered to several taxi drivers again this year, including a driver who I was able to lead in prayer for salvation on the way to the airport to leave Nepal, with the help of translation by the son of one of our Nepali minister friends. I left this young man in charge of following up on this man and inviting him to church.
Another taxi driver, who was with us for several days, came to life while we were with him. He had previously worked for a U.S. missionary to India and had been exposed to the Gospel, but was not really a follower of Christ. At the festival, this man assisted me in ministering to the sick. He even brought his wife, who is a Christian believer, along one day to spend some time with us. She was happy, because we were encouraging him to be baptized and to follow the Lord.
God has given us a wonderful team to reach the world for Him. Thank you for being a part of it! Together we will continue to proclaim the Gospel in the United States and around the world and we will see many come to the knowledge of God and Jesus His Son, as He confirms His Word with signs following.
Together we can do it! We are doing it! We can touch the world! Thank you and God bless you, in Jesus name.
Donate to Tom Shanklin Ministries>>>
Click on any picture below for a larger view and to start the slideshow.