Help! I Want to Lose Weight! by Susan Shanklin
Help! I Want to Lose Weight!
Give Yourself Another Chance . . . I Did!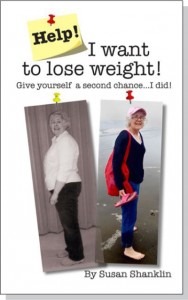 "Help!!!!! I want to lose weight!" we scream… silently. From one screamer to another, I hear you. I believe you can lose weight and keep it off for as long as you want. (Susan Shanklin)
Susan's enthusiasm is infectious. Now you have a weight-loss friend who will make you giggle over her own life trials as you smile at your own triumphs. Every day! Every page! Her real CAN-DO collections of tools learned the hard way along her own weight-loss path CAN MAKE YOUR OWN JOURNEY easier.
If you're tired of looking for the magic pill or trendy diet that's promises everything but delivers nothing, this book is for you. It is simple principles applied in a practical way that effectively work to shed the pounds while eating normal, healthy, natural food. Here you'll find a common sense approach to weight-loss coupled with the inspiration and encouragement that you need. Susan believes food is to be enjoyed, not shunned. You'll find a shopping plan, cooking tips and recipes to make your weight-loss journey not only effective but also enjoyable.
Susan lost 79 pounds in 13 months with the help of God, her husband and her local weight-loss group. The secret was eating controlled portions of very nutritious food and balanced regular meals. The book includes 30 photos (color in the eBook version) of Susan's life and weight loss journey. Give yourself another chance.
Order Today…
Paperback $9.99
If you enjoy our products, please review them on Amazon and iTunes. It will help us to get the word out and help more people. Thanks!
From the Introduction
Mountains and valleys and starts and stops. It sounds like the old TV show, Wagon Train. But this too is how we sometimes live our lives with weight gain and losses. It's all up the hill or down in the valleys. We start and then we stop. We're frustrated by our own inconsistencies in the weight loss process.
"Help!!!!! I want to lose weight!" we scream… silently. From one screamer to another, I hear you. I believe you can lose weight and keep it off for as long as you want.
 I can color my hair a different color, if I want to. I can wear white, if I want to. I can eat what I want to."
I wrote this book for you so you can decide to rule and reign in your own life instead of having food rule and reign in your life. What you will read is the truthful account of me taking ownership and dominance of my food choices for 13 months to loose 79 pounds to reach my goal weight.
No one paid me to do it. I have no sponsors. I am not rich. I don't have superwoman will power. I had desire. I had hope. I had a fork. I had a measuring cup. I had a scale. What do you have?
About the Author
Susan Shanklin is a wife, mother, and grandmother, and a unique and creative human being. Her exuberance for life and love for God makes her a favored speaker, author and friend. She is also an accomplished stained glass artist, and she enjoys the homesteading lifestyle with her husband on the couple's 3.3 acre farmstead in southern Minnesota, where they raise enough garden produce to feed a small army. Susan also ministers alongside her husband in the United States and overseas. Many people enjoy her unique writing style, which combines witty insights into everyday life with a spiritual punch.
Comments on Help! I Want to Lose Weight!
I read Susan's book and I love it, it is so encouraging and I love her sense of humor, I laughed out loud more than once.   I hope the next time I see you and Susan I will be at least 40 pounds thinner.  I plan to share the book with my daughter.  Thanks so much. (Minnesota)
Susan sets her face like flint and holds herself accountable by measuring and weighing her food. But the portion she gives her readers is pressed down, shaken together, and running  over. (California)
I just finished reading Susan's book and I totally loved it.  Truly, it has inspired me to give another try at losing weight.  I have gained back all of the weight I lost 5 years ago.  My hardest part is the KOPS part.  I seem to do well for awhile, even a couple of years and then I go back to bad eating. The book was delightful and fun to read!!!!  I liked the ideas about using more herbs and spices with the vegetables so they are not boring. Susan, thanks for sharing.  It was a great book.  You are a fun, witty writer! (Minnesota)
In yesterday's mail we got the copy of your new, "second-chance" book. And what a terrific accomplishment! Haven't read the whole tale yet…but it's such a personal and realistic (I think "accessible" is the new term of art) story, and you're right, there are lots of folks who need exactly that sort of personal connection to get them on the track of losing weight: And my goodness, 79 and then even 86 pounds!! (Pennsylvania)
I was going to write to you to tell you how wonderful your book is.  I received it a couple of day ago and sat down and read it right away.  I really enjoyed reading it. You made me laugh and I could totally relate to your experiences and feelings. You gave me inspiration and hope that I too could win a battle that I've been fighting for years! Thank you Susan. When I finished reading your book I prayed for you and thanked God for you and asked that He would bless you and this book and that it would help all who read it. Thank you for your hard work and for sharing your thoughts that every skinny person in a fat body is feeling and thinking. Thank you for being yourself, REAL. (Minnesota)
Order Today…
Paperback $9.99
Preview Susan's Book…
Here's a preview of Susan's new book, "Help! I Want to Lose Weight!" Take a look and decide for yourself if this book is for you.
Have Susan Speak to Your Group
April, 2017
I have been fortunate to hear Susan speak several times and each time I come away inspired and motivated. She relates so well with her audience as she tells her story of her weight loss journey.
Susan has a gift of bringing her audience into her program. She speaks from the heart.. She has lived through being overweight and can relate to members of our TOPS groups with her story in taking off weight and now with keeping it off. Her book, "Help, I want to lose weight!" is fabulous – once you pick it up you won't put it down until you have read it from cover to cover. I would highly recommend Susan for speaking to any group that needs motivation.
Shari Kieper
TOPS Coordinator for Southern Minnesota

Recent Messages by Susan…
Contact us to schedule Susan to speak at your next event.