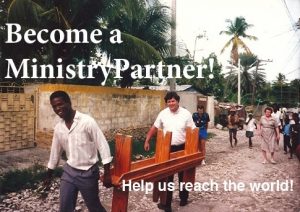 Partnership is a about hearts being joined together to reach the world for Jesus Christ. Together, we are reaching the nations by preaching the Good News, encouraging leaders, training believers, and publishing the Word. We welcome you to join with us in our mission, which is to unite with the whole Body of Christ to reach the whole world with the whole Gospel of Jesus Christ.
You can make a secure and safe contribution online by paypal or credit card:
You can donate from almost any nation in the world. Click here for a list of countries served by Paypal. 
Here are some other ways to partner:
You can mail your contribution to:
Tom Shanklin Ministries
PO Box 4144
Mankato, MN 56002 USA
Tom Shanklin Ministries is a board-approved branch of World Evangelism Fellowship, Inc., a non-profit 501 (c) (3) Corporation registered with the Internal Revenue Service. All contributions are tax-deductible in the United States.