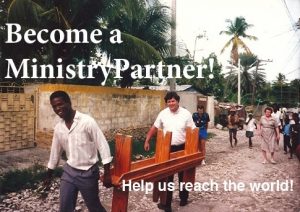 "And he said unto them, Go ye into all the world, and preach the gospel to every creature." Mark 16:15, KJV.
Partnership is a about hearts being joined together to reach the world for Jesus Christ. Your support is a gift to God to unite with us in our mission to take the whole Gospel to the whole world. You can make a secure and safe one-time or monthly contribution online by paypal or credit card:
You can donate from almost any nation in the world. Click here for a list of countries served by Paypal. 
Here are some other ways to partner:
You can mail your contribution to:
Tom Shanklin Ministries
PO Box 4144
Mankato, MN 56002 USA
Tom Shanklin Ministries is a board-approved branch of World Evangelism Fellowship, Inc., a non-profit 501 (c) (3) Corporation registered with the Internal Revenue Service. All contributions are tax-deductible in the United States.