Christmas: It's Not Just a Nice Story. His Kingdom is Taking Over!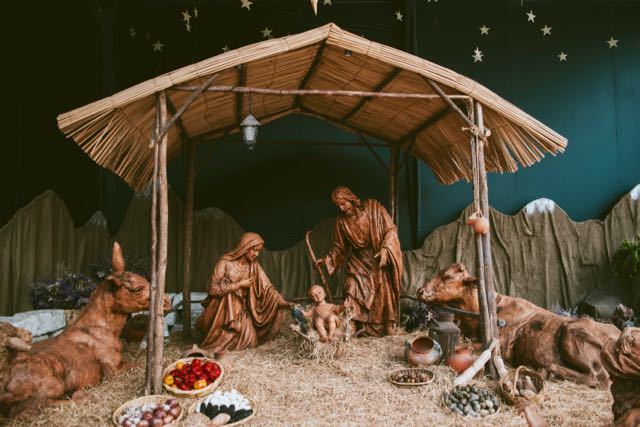 By Tom Shanklin
It's such a nice story! Mary and Joseph traveling to Bethlehem. No room in the inn. A baby in a manger Oh, little town of Bethlehem. Silent night, holy night, all is calm, all is bright! Christmas is delightful!
But sometimes we can miss the real power and meaning of that birth in Bethlehem 2,000 years ago. As the prophet Isaiah said:
"For unto us a child is born, unto us a son is given: and the government shall be upon his shoulder: and his name shall be called Wonderful, Counsellor, The mighty God, The everlasting Father, The Prince of Peace. Of the increase of his government and peace there shall be no end, upon the throne of David, and upon his kingdom, to order it, and to establish it with judgment and with justice from henceforth even for ever. The zeal of the LORD of hosts will perform this." Isaiah 9:6, 7, KJV.
Jesus was born of a virgin in order to usher in a Kingdom, a Kingdom over all kingdoms, a Kingdom which would have no end. "The government," the prophet said, "will be upon his shoulder." With the failure that we see in human governments in our nation and around the world, this in itself should be Good News.
Jesus came to wrench the dominion of the earth back from Satan, the malevolent ruler of the kingdom of darkness, who gained control when He deceived Eve and caused Adam to sin in the garden of Eden. For us, Jesus coming is the greatest news ever announced. We no longer need to be a slave of Satan. Jesus came to set us free!
The birth of Jesus was an epoch in human history. It changed everything. Even our calendar is reckoned from the year of His birth. When Jesus came, He brought an invasion of the Kingdom of heaven into earth, an invasion which has revolutionized the world, a revolution which will ultimately bring His total dominion. Let's look at three aspects of His Kingdom:
1. The Kingdom of God is at Hand.
When Jesus began His earthly ministry, it is written, "Now after that John was put in prison, Jesus came into Galilee, preaching the gospel of the kingdom of God, And saying, The time is fulfilled, and the kingdom of God is at hand: repent ye, and believe the gospel." Mark 1:14, 15, KJV.
When He said "at hand," He meant within reach. You can touch it, feel it, grasp it, lay hold of it. It's there for the taking! This is what Jesus came to do—to make His kingdom available to us. Jesus Himself was (and is) the Kingdom personified, because, as the Bible says, He is the King of kings and Lord of lords.
The birth of Jesus was the beginning of His life as a man, but not the beginning of His existence. As the prophet Micah tells us, ""But thou, Bethlehem Ephratah, though thou be little among the thousands of Judah, yet out of thee shall he come forth unto me that is to be ruler in Israel; whose goings forth have been from of old, from everlasting." Micah 5:2, KJV.
Jesus is the eternal God of creation, but the birth of Jesus was a new beginning. He became a man, in order to identify with our weakness and to bring us up into a new way of life. He became human so we could take on His divinity, so we could become new creatures in Christ through a new birth.
He did this by dying on the cross, where He condemned sin in the flesh and made a way for us to be forgiven and changed. When He rose from the dead, sin was defeated, and the way was made for us to have His resurrection life.
What does that mean to us who believe? It means we are forgiven of ALL our sins. It means we are NO LONGER slaves to sin. It means we are JOINT-HEIRS with Jesus in His Father's Kingdom and we will rule and reign with Him throughout eternity.
2. The Kingdom of God is Within You.
"And when he [Jesus] was demanded of the Pharisees, when the kingdom of God should come, he answered them and said, The kingdom of God cometh not with observation: Neither shall they say, Lo here! or, lo there! for, behold, the kingdom of God is within you." Luke 17:20, 21, KJV.
For us, in this present dispensation, the Kingdom of God is not physical, it is spiritual. It cannot be seen or heard or measured with scientific instruments. It is a matter of the heart. The Kingdom of God is within you when you invite Jesus to come into your life as Lord.
I can remember the day that it happened to me. I was praying in my pickup truck. I had been water baptized that day. I was thinking about my old ways, my habits, my addictions, and I had this thought, "Things are going to be different now. I'm only going to do those things once in a while, just be be sociable. After all, I don't want my friends to think I'm weird." Suddenly the God of the universe spoke up within me, saying these words, "Turn from the things of the world."
It was not a gentle influence or a still small voice. It was the authoritative voice of the Holy Spirit. I knew that God Almighty was speaking to me and calling me to surrender my will to His, to allow Him to truly be Lord of my life. That day I was born again, and I have never been the same. That is how the Kingdom of God comes within you. It comes when you make Jesus YOUR King.
3. The Kingdom of God is Taking Over. 
"I saw in the night visions, and, behold, one like the Son of man came with the clouds of heaven, and came to the Ancient of days, and they brought him near before him. And there was given him dominion, and glory, and a kingdom, that all people, nations, and languages, should serve him: his dominion is an everlasting dominion, which shall not pass away, and his kingdom that which shall not be destroyed." Daniel 7:13, 14, KJV.
One day Jesus is coming back to the earth to set up His Kingdom. He will literally rule the earth from Jerusalem. There will be no oppressive governments, no dictators, no manipulative social-democratic systems. There will be a King, and He will rule in the earth, and ALL shall know that He is the Lord.
Yes, it WILL literally come to pass. Think about it! All the Old Testament prophecies of Jesus' birth,  death, burial, and resurrection have come to pass. No one would have thought it possible before, but every prediction was accurate and  was fulfilled to a "T." So, why would we think that the prophecies concerning His second coming would not come to pass? They will! And perhaps we will see it with our physical eyes in these days. As the scripture says, "The kingdoms of this world are become the kingdoms of our Lord, and of his Christ; and he shall reign for ever and ever." Revelation 11:15, KJV.
Today, we are living in a time of chaos, struggle, and battles for the souls of men. We have a choice, a free will, to chose to follow Jesus as King or to live under the rule of the renegade power of Satan and his minions. If we choose Jesus as King, He will come into our hearts and rule, and we will live with Him and rule with Him forever, If you have not made that choice, today is the day to turn around and make the choice to follow Him.
Pray this prayer from your heart:
Dear Father, I'm so thankful that you sent Jesus to die for me, that I do not have to die for my sins. Forgive me Father for all that I have done against you. Today I chose to follow Jesus as my King. I believe you raised Him the dead, and that He sits as King above all. Father, today I say, "Thy Kingdom come, thy will be done in Me … and in all the earth. Have your way Lord, In Jesus' name I pray. Amen.