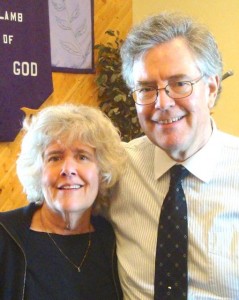 We are glad you are here! Tom Shanklin Ministries exists to proclaim the greatest message, the Gospel of Jesus Christ, and to fulfill the greatest mission, to take the Gospel to the world. We are proclaiming a message of Good News for Everyone as we reach out to people of every age, culture, religious background, and ethnic group. Take a few minutes to look around our site. We're here to encourage you and be a blessing to your life!
Tom and Susan Shanklin
Listen to Tom and Susan's latest Radio Broadcast>>>
Watch this Video from our Latest Trip to India
Watch this exciting video from our mission to India. We traveled to two states, West Bengal and Andhra Pradesh. We ministered in 9 cities or villages, held two 3-day leaders conferences and held open air evangelistic meetings in 4 villages. Watch the wonderful healing testimonies from this trip. A woman who could not move her hand or leg was instantly healed. A tumor instantly disappeared. Watch it and rejoice!
We Want to Help You Reach Your Community!
The focus of our ministry is proclaiming the Good News of Jesus Christ, encouraging churches, and training believers in their ministry of reaching the world for Christ. God has given us grace to minister by the Holy Spirit to people of many different denominational backgrounds. By the grace of God, we have seen a lot of wonderful fruit from this ministry—people born again, healed, filled with the Spirit, and turned on to reaching others with God's Good News. Read more>>>
You Can Touch the World: A How-to Manual for Reaching the World for Christ by Tom Shanklin (Paperback)
You Can Touch the World will unveil the awesome potential of your life, and inspire you to take the challenge to touch your world with the love of God. With Christ's direction and plan in your life, you can make a difference. You can have the power to bring change, to impart life that only comes from the heart of the Father. When you act on God's plan, you are acting out of love, out of concern, out of compassion. Click here for more details.
Tom's Testimony of Deliverance from Drugs and Alcohol
This is the story about how I found freedom from drugs and alcohol in 1977, when I surrendered my life to Jesus Christ. Jesus totally set me free and filled my heart. You may not have a problem with addiction, but you may be experiencing an inward emptiness. Jesus can come into your life and fill that emptiness today! Read more>>>
Or order Tom's testimony booklet, Filling the Void>>>
2013-11-27 10:57:59
Here's some recent notes we've received:
I pray your ministry will continue to bless many. I gave your Healing CD to a waitress whose husband has stage four cancer. He is doing better! (Illinois)
Thank you for the monthly bulletin, always a lesson, enlightening. Loved your report from India. Thanks for a glimpse of your homelife—gardening, farming and your harvest. It is amazing how your words have reached and brought so many to Christ. It is obvious that God is using you, Tom and Susan to carry God's Word, healing and salvation to areas that have not had access to the "Full" truth. Always, my thanks goes to God for His wisdom and love, for putting you in my path. Only He can do that. He does nothing by chance. His purposes are far above what we can think. (Illinois)
I enjoyed the newsletter. Susan, you are so fun to read! (Redwood Falls, MN)
Thank you Tom and Susan for your evangelistic work in our state—Minnesota—and in our neighbors states, ND, SD and the India Reservations. You work is needed badly in our region and I pray with you for wisdom, money and changing minds and hearts! (Your sister in Minnesota)
Posted in:
All Posts
Testimonies
Tagged in:
Read more...
0 comments
---
2013-10-28 07:30:53
We received this good report from our ministry partners in India about the mission trip earlier this year:
"I'm writing this letter with great joy and praising God for the marvelous things He has done. I recently met Pastor Gnanender the coordinator for the pastors conference in Andhra Pradesh. I was asking him about the results and how the churches are doing after the crusade. We just have come to know that 20 FAMILIES have come to church and 15 people are going to take baptism. I asked them to send pictures once the baptisms are done. I will send it to you once I get them. We were so excited to hear this good news of families joining God's family into the local church. They have left their idols and now are serving the only living God! What a joy….wow! I couldn't stop myself… I was in tears filled with joy… He has done great things and we will bless His Holy name…"
Thank God for increase in the local church!
Posted in:
All Posts
Ministry Reports
Tagged in:
Read more...
0 comments
---
2013-10-26 09:18:30
By Susan Shanklin
Most late mornings or early afternoons you will find Tom and me walking in an older style mall which used to house Pennys and Sears and other shops. The big name box stores are long gone and new businesses and offices abound. The very well cared for and CLEAN mall has a sign at one of the entrances that says if you walk all the halls and in-betweens twice, you have walked one mile. Now this is an excellent free, clean, heated-in-the-winter and cooled-in-the-summer gym for us.
This massive mall in the middle of a sea of a large parking lot also houses a small post office where Tom Shanklin Ministries rents its post office box. Each day we pick up the ministry mail and we then set out for our daily one mile walk.
After picking up our mail, we enter a side door of ministry (I mean mall) and the first place we encounter is an office of psychologists. We cross the path of many children, teens and adults using this door and my heart is drawn to pray for them and release the peace and power of Jesus to them. Many times I see people and know which office they might be heading to. Much pain and distress is displayed in their faces and mannerisms. As believers we think, "Is there not a cause?"
As we turn the corner at the end of the hallway we come across multiple offices for prosthesis and limb labs. How thankful I become that I have the independence and no constraints to pick up my pace, stop on a dime, or make a sharp turn. "Thank you Lord!" my heart says, and I release restoration and healing to their customers.
We head down the next hall and walk past a Vineyard Church office door. I will sometimes rap on the glass door and wave or Tom will stop in and chat with the pastor. Each time I walk by (if they are there or not) I fling my hand and release JESUS! "House be full!" I declare!
A sharp turn kind of takes you back into the bowels of the building with doors of unknown offices…kind of creepy back there. Ha. Another turn and we walk by Mayo Clinic Health System's training rooms for nurses and techs. Mmmmm, laborers in fields of harvest among the hurting and dying?
Turn again and you will pass one of my favorite places—the dance conservatory! Many little girls in leotards and slippers, and moms, dads and grandparents scrolling IPhones. "Is there not a cause?"
Our steps will soon cross the entrance of a kidney dialysis clinic. "Oh, thank you Lord for my healthy kidneys." Aren't you thankful for your healthy kidneys too?
Keep walking and you pass the many doors for the pain management clinic. Fling those arms, Susan. Jesus is Lord over pain and suffering.
Walk, walk, walk. Stop at the ladies room, Ha, and turn the corner of the new chiropractic office. Fling that arm and release healing and business. I'm not against someone that can help people. Right?
One day I popped my head in as the good doctor sat at the front desk.
"How's business?" I ask.
The doctor kind of looks at me sideways with an odd expression and says, "Fiiiiiine. Why do you ask?"
"Oh!" I stammer. "I pray for you every time I walk by!"
His eyes get big and then he smiles and says, "Why thank you!"
Like David said when he confronted the giant who was oppressing Israel, "Is there not a cause?"  Aren't we here to release the love of Jesus and care for the hurting and dying of this world???????
Walking right along and you pass the newspaper shopper office and the beauty salon. Some ladies in the salon need prayer, too. Ha!
On we walk past a hearing aid and a mortgage management office and a sewing machine store.
I guess we have walked a quarter mile by now and hospice offices are next and then an insurance office. It's good to be thankful for what you don't need. Amen?
More mini offices go by and sadly a bridal shop which closed after many, many years in the same location. I so enjoyed flinging my arms at the future brides. Often I would give them a thumbs up as they saw my reflection in the mirror while they were trying on their gowns. Sometimes I would pray too that they would not buy "that ugly one". Mostly they need Jesus to be the cornerstone upon which to build their marriage.
Continuing on the "Mall Mission," we walk past more doors of medical offices, with many workers and nurses—people with a calling in life to help the sick and hurting. It's about time to turn the corner again for an occupational therapist and an eye doctor and an employment office. Keep walking and you'll be flinging your arm at the pysch office again! Oh the joy of being a Christian and caring for your neighbor.
As Tom is in Nepal right now, you can bet the farm I'm flinging my arms at those businesses, janitors, patrons, and OTHER mall walkers.  Now, this is a good time too to intercede for my beloved Tom as well.
"Is there not a cause?"
Your mission trip may not be so far away. Happy trails!
Women can bring down giants too!
The womens conference where I spoke in Hendricks was outstanding! Thank you for your prayers for this moving of the waters in those ladies' lives. The morning session was filled with laughter. I spoke on "You Can't Kill a Giant Unless You Know Who You ARE!" The afternoon session was on "Killing Giants" with more of a serious tone to it. You know, women can bring down giants too. Just saying, guys. 

I gave it all—drama, laughter and nuggets. We shall never be the same. Ha!
Thank you for your prayers for Nepal!
Tom is in Nepal as you are reading this and he and I covet your prayers for safety and a good sowing of the Greatest seeds for the Kingdom of God!
Tom is gone for three weeks to the utter most parts of the earth doing what he loves to do, sharing Jesus. As he shares…you are sharing. As he lays hands on the sick…you are laying hands on the sick. He is there because you were there with your giving and prayers. You are there because Tom's fruit is your fruit.
In life, many things are accomplished through a team effort. Last month a dear pastor friend and his wife invited us to pick of their abundant crop of apples. This was an answer to my prayer for more apples for sauce. Our own crop of apples was small this year, but we became partakers of someone else's labor. They planted, we harvested. It's the same principle that you have applied with this ministry. One sows, another reaps, but God gives the increase. Apples for apples. It's a "win win" for Jesus!
I thank you for your support, giving, encouragement, love and prayers.
Pray for safety for Tom in Nepal and his ministry team.
Pray for lasting fruit and continued open doors in Nepal.
We serve the true and living God the Father of our Lord Jesus Christ that would have all men, women, and children to be saved. Is there not a cause?
Have a great today and tomorrow!
Posted in:
All Posts
Articles
By Susan Shanklin
Ministry Reports
Missions
Testimonies From Overseas
Tagged in:
Read more...
0 comments
---
2013-09-30 20:12:56
By Tom Shanklin
I had a wonderful time of ministry in September in Minnesota, North Dakota, and Iowa.
I was at New Life Fellowship in Tolna, ND with Pastor Jeff Kapelle. This church has experienced revival and a move of the power of God in recent months with their "Great Awakening" meetings.
At Tolna, Sharon Walter, who I had prayed for two years previously, told me that she had been healed. At the time I prayed for her, she had just been released after spending 60 days in the hospital recovering an operation that did not go well. I had prayed for her along with her church family and then I gave her a copy of The Healing CD, which she listened to over and over again. She believes that it was the Word of God in that CD along with the prayers of God's people that enabled her to recover from her illness. See video below:
On Sunday morning we had a wonderful time in the presence of the Lord. Both the pastor and I were unaware that I didn't start preaching until 12:20 p.m. but the people stayed with me and we had a good time of ministry. I spoke on "The Will of God" from 2 Pet 3:9:
"The Lord is not slack concerning his promise, as some men count slackness; but is longsuffering to us-ward, not willing that any should perish, but that all should come to repentance." 2 Peter 3:9, KJV.
The main thrust of the message was that God is not willing that ANY should perish. In other words, it is His will for everyone on the earth to repent and to obtain salvation. It is God's will that His message and love of forgiveness through Jesus Christ would go out and reach every single lost person. But how does our lives, our thoughts, and our actions line up with this will of God. When we are aligned with God, we will share this same vehement desire to see every man and woman, boy and girl on the face of the earth come to know Jesus as their personal Lord and Savior and it will be reflected in the choices we make.
I also shared this message at a Wednesday night service at the First Church of the Nazarene in Jamestown, ND. It was a challenging message, to be sure, but it was received well in both places. I also had a home meeting with friends at Steve and Julie Nelson's home while I was in Jamestown, where I shared about God's redemptive plan for healing and salvation  from Isaiah 53.
In September, I also visited for the first time Faith Bible Christian Outreach Center in Storm Lake, Iowa, where I had a great time with Pastor Loren and Cheryl Carlson and the congregation.
In the adult Sunday School class, I spoke to a wonderfully receptive group on the subject of "Doing the Works of Jesus." (Jn. 14:12) The Spirit of God flowed freely though the teaching of the Word of God.
Then in the Worship Service, I spoke on "The Woman with the Issue of Blood" from Mark 5:25-34. I love that story of the woman with a great need in her life who when she heard about Jesus Christ pressed through the crowd to receive a miracle. "For she said, If I may touch but his clothes, I shall be whole." Mark 5:28, KJV.
At that moment, it was just her and Jesus, though a great crowd of people was surrounding Him. Likewise, we need to press through the doubt and unbelief and the pressure of others that would hinder us from getting a hold of all that the Lord has for us in this life and the life to come.
There were several instant healings during our service in Storm Lake, for which I praise our great God. Kay Foster received a healing from severe pain from a degenerative disk and sciatic nerve problem. As I was videotaping her testimony, she shared that all the pain and discomfort was gone from her legs. She said, however, that she still had a dull pain in her back. So with the camera still rolling, we prayed, thanking the Lord for what He had done for her legs and commanding the pain to go from her back. We concluded the video session, but within a few minutes she came back into sanctuary rejoicing and testifying that the pain in her back was completely gone. We also got that testimony on video.
Today I read in the October edition of the Billy Graham Evangelistic Association's Decision Magazine the testimony of a man who was raised from the dead after his pastor prayed. I have never known BGEA to report on this type of outstanding physical miracle before. Their emphasis is primarily on the miracle of salvation through the new birth. But I believe that time has come that all of us are realizing that we need the mighty hand of God to move to demonstrate to this sin-sick world that we serve a living God who raises the dead and calls those things which be not as though they were. (Rom 4:17) We cannot be satisfied with business as usual in the Church. We must let the Holy Ghost out of the box and let him do his miraculous works, giving the Lord all the glory, in Jesus mighty name.
Posted in:
All Posts
Ministry Reports
Testimonies
Testimonies on our Books and Materials
The Healing CD Testimonies
Tagged in:
Read more...
0 comments
---
2013-09-30 15:25:10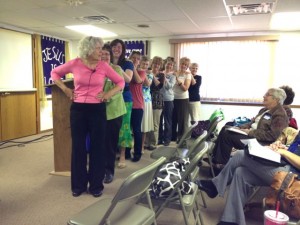 Susan Shanklin will be the speaker at a Women's Conference and Luncheon sponsored by Faith Family Christian Center in Hendricks, MN on Saturday, Oct. 12 from 10:30 a.m.-2:30 p.m. She will be speaking on "Slaying Your Giants."
The following comment is from one of the women who attended the conference last year:
I was so touched by Susan's timely message last year that I don't want to miss this years. She had a part to play in where our Church is at today. PTL
The Conference will be held at Cedrics Banquet Room, 1 1/2 blocks west of HFE Self-serve gas pumps in Hendricks, MN. There will be a free will offering. Women and girls 7th grade and above are welcome to attend. Please RSVP to Pastor Joyce Caugherty as soon as possible at 605-832-3701.
Read about last year's conference here>>>
Posted in:
All Posts
Ministry Reports
Testimonies
Tagged in:
Read more...
0 comments
---